Discover more from IT'S A RAID WORLD
A place where we share shenanigans from RAID HQ, elevate our creators, and confabulate regarding our RAID Press initiatives.
This summer we're seeing a lot of exciting growth and change at our beloved RAID HQ — and to better encompass what we share here, we've decided to re-brand our newsletter, somewhat playfully, to "IT'S A RAID WORLD" as things are rather MAD! 😜
To keep things simple during this marvellous month of madness we thought we'd share our top five bits of chaos…
The biggest change is that our in-house El Almacen Yerba Mate Café has moved on from hosting our RAID gallery space on Queen Street West to focus on its new, and larger, location at 1917 Weston Rd. in Toronto's North York region. This gives us a bunch of mixed emotions as we've enjoyed working with them over the past three years and will miss them, but as one door closes, another opens — and we see this as an opportunity to better showcase ourselves to the public, and curate events in the gallery space in-line with our mandate to bring together Toronto's artistic community.
We will close temporarily to refresh the space and prepare for our re-launch as the RAID Gallery & Cafe on Monday, August 14th, 2023. When our doors re-open we'll still be serving the same delicious coffee, savoury empanadas, along with a plethora of new tasty treats curated from some of Toronto's best bakeries!
As we wave our goodbye to a brief era, here's a throwback to El Almacen's IG post when they first opened in August 2020! 👇
Our behemoth of a home show FAN EXPO CANADA is happening August 24-27 at the Metro Toronto Convention Center, and the whole RAID crew will be there! Including Kalman Adrasofszky, Damian Canta, Rob Coughler, Anthony Falcone, Dax Gordine, Andrew Healey, Shane Heron, Danesh Mohiuddin, Sam Noir, Ramón K Pérez, Katie Sawatsky, Kyle J. Smith, Marcus To, and Eric Vedder!
Mark your calendars and swing by — this one's a doozy. Stay tuned to our socials in the coming weeks as we announce our panel schedule and table numbers. In the meantime here are some of our favourite pics from last year…
The RAID Social is finally back!! After a long (and sad) break due to recent pandemic restrictions, we're returning to our industry event in conjunction with Fan Expo Canada! We're excited to see some familiar faces, and meet new ones, at this year's 8th annual RAID Social! 
The Social was originally created to welcome the creative guests and celebrities of FAN EXPO CANADA, the third largest pop culture expo in North America. Since its inception, attendance has quickly grown to include individuals from related creative and media industries (other than just comics), pushing the RAID Social to become a hub networking event for Toronto's creative industries to mingle with each other, as well as global guest writers, artists, actors, and celebrities.
Check out the website for some fun snaps from previous years…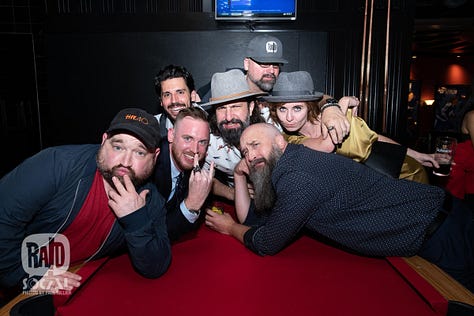 PS / Be the first to drop the name of the opening credits designer, to the aforementioned movie we based our new Substack branding on, in the comments below, and we'll send you 5 RAID Creator Visions Series 1 card packs!
As if our Fan Expo weekend couldn't get any busier - a couple of our teammates will be pulling double duty at TENNO CON 2023 happening on August 26th and celebrating 10 years of Warframe! This year marks their long-awaited return to in-person celebrations in London, Ontario for an all-day event showcasing the very best of the Origin System. 
RAID Press' upcoming Aardehn creators (and fellow RAIDers) S.M. Carter and Eric Vedder will both be there shaking babies and kissing hands!
You can find more info through their Youtube trailer below 👇
Last, but most definitely not least, RAID: CREATOR VISIONS Series 1 Trading Cards, are on their way from the printer! Hobby boxes and individual card packs are available for pre-order on RAIDpress.com - and we'll most definitely have them available at Fan Expo Canada later this month.
The 100-card base set features art from Abominable Books, Cary Nord Comics, Derek Laufman Books, Group Of 7 Comics, Lethal Comics, Pegamoose Press, and our very own creators from RAID! Alongside the base-set we have a foil enhance base-set parallel, one of which will be included in every pack - plus there are 6 foil rainbow foil chase cards at a rarity of 1:20 packs, a DYI sketch card which gets you a sketch from any participating artist - inserted at 1:50 packs, and the super rare Golden Ticket card, inserted at 1:1500 packs, which wins you an original piece of comic art!!!
If you missed the Kickstarter campaign you can pre-order card packs, or hobby boxes, at RAIDpress.com now. Coming soon we'll have a limited amount of the official RAID CREATOR VISIONS Series 1 collector binder! This thing is a beaut — and as soon as it goes live in the store, we'll let you know here. Meanwhile, here's a sweet pic of the design Ramón Pérez put together…
Well those are our top-five points of August madness — if you've read this far, you're awesome, if you just scrolled this far to see if we have a contest you're one devious sonnova — ahem, well — the contest question is elsewhere! 😜
See you soon!
---
THANKS FOR READING!
IT'S A RAID WORLD is brought to you by an amazing team effort from the RAID crew & creators. We do our best to keep you informed on what all the amazing individuals at RAID are doing, but also what we're doing as a whole.

Visit our RAID ONLINE SHOP to discover some of our great creators and books...
---
Copyright © 2023 R.A.I.D. Inc and its individual creators, All rights reserved.
You were subscribed to the monthly newsletter from R.A.I.D. featuring news and highlights regarding R.A.I.D., its creators, and its publishing arm RAID Press. Your subscription was transferred to our new Substack based newsletter. Should you like to unsubscribe, your can follow do so by following the steps below.

Our mailing address is:
R.A.I.D. / 1720 Queen Street West Toronto, ON M6R 1B3 Canada
---
---