Discover more from IT'S A RAID WORLD
A place where we share shenanigans from RAID HQ, elevate our creators, and confabulate regarding our RAID Press initiatives.
NEED A HERO? 🦸
Racing on the thunder - And rising with the heat - It's gonna take a Superman to sweep us off our feet, yeahhhh — from comics to conventions — we got it all!
And just like that, those lazy-hazy-crazy days of summer are here…
With the beautiful weather, the garage door is up at the RAID Gallery & Cafe hosted by El Almacen Parkdale, with locals dropping in for coffee and conversation. ☕
Nestled in behind the RAID HQ has been a busy hive of activity as well…
We started the month taking advantage of the beautiful weather with our patented back alley barbeques, BMV bookstore field trips, and our very first Word on the Street outdoor Book and Magazine Festival in Toronto! A very cool (there was a welcome breeze on the hot hot day) event featuring Toronto indie authors and publishers — we may have added several books to our ever-growing to-read piles 😅
We continue to work on BARADA, the 5th volume in our RAID anthology series, with its international cast of creators! We are thrilled to see the amazing work coming in from our diverse array of writers and artists. Stay tuned for more updates as we reveal tidbits in the coming months… 👀
Subscribe for free to receive new posts and support our creator network.
While we're busy fulfilling our recent RAID Press kickstarter, we thought we'd spotlight two campaigns from our extended studio friends and family. These campaigns are coming to a close within the next week — so JUMP ON if you haven't yet!
MOTHER TRUCKER #3 THE HEAT by Andy Belanger and Lethal Comics. Ending June 6, 2023! Some of these characters feature on the RAID CREATOR VISIONS trading cards, so it's worth checking out 🗃️
COLORPEDIA Volume 3 from Renderwave. RAID studio member and publisher, Oldrich Stibor, launched this third volume of the popular digital painting art/textbook that closes on June 2, 2023. The campaign also features the book, Mastering Facial Anatomy and Expressions!
Meanwhile…
KUKUBURI: A COTTON CANDY WORLD
Ramón is currently working on fresh art to expand and finesse the story originally presented as a webcomic. He's estimating that all the new art will be completed by the end of summer, with the book going to print in time to have it in people's hands for the holidays. A little longer than expected — but he's putting his heart and soul into this edition!
If you'd see more of his process — you can follow along on his Substack!
We've got two events lined up for June…
This is a huge point of conversation we often slip into at our studio space, so we find this virtual panel super relevant right now! Fellow studio member Rhys Yorke is talking with the Director's Guild of Canada about how the creative landscape changes due to AI on Sunday, June 4, at 6:30 pm ET. Everyone is invited; sign up HERE.
and for those in the area of Charlotte, North Carolina, a slew of us will be attending…
This will be our FIRST show in the USA, setting up officially as RAID — and we've got a solid crew of creators joining us; Ramón K Pérez, Marcus To, Eric Vedder, S.M. Carter, and Dax Gordine! We don't have a table number yet, but we'll be located either in or near INDIE ISLAND! Stay tuned to our socials for more info 🔈
There are always ideas and projects coalescing within our community at RAID HQ — so we wanted to share some of their projects!
WANDER: LORE ARCHIVES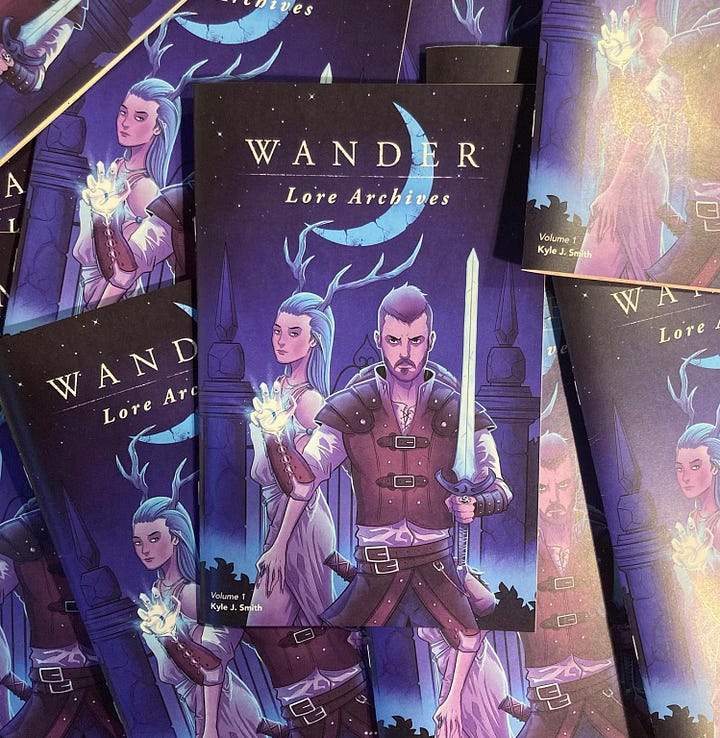 Wander, heavily inspired by tabletop and video RPGs like Dungeons & Dragons and Elden Ring, is an ultra-violent, lore-rich saga of conflict and self-discovery for mature readers. To help introduce readers to the story, creator Kyle J. Smith created Wander: Lore Archives, an RPG-like manual containing over 20-illustrated pages of supplemental content, providing readers with in-depth information about the world and mythos of Wander.
You can snag yourself a copy in our RAID Press store HERE.
X-23 DEADLY REGENESIS CONTINUES!
Kalman Andrasofszky is the series cover artist for Marvel's X-23 Deadly Regenesis series, AND issue 3 just dropped this past Wednesday, May 31st. You can witness some of Kalman's creative process HERE.
MONEY TALK
Fellow RAIDer Danesh Mohiuddin creates humorous accompaniment to TD Bank's blog series, Money Talk, which covers the various topics of trading, personal finance wellness, and retirement saving. Who knew a blog talking about $$$ could be entertaining‽
And for our last update round, we thought we'd end things appropriately with a tasty cocktail — or at least, a cocktail menu…
BAR NEXT DOOR MENU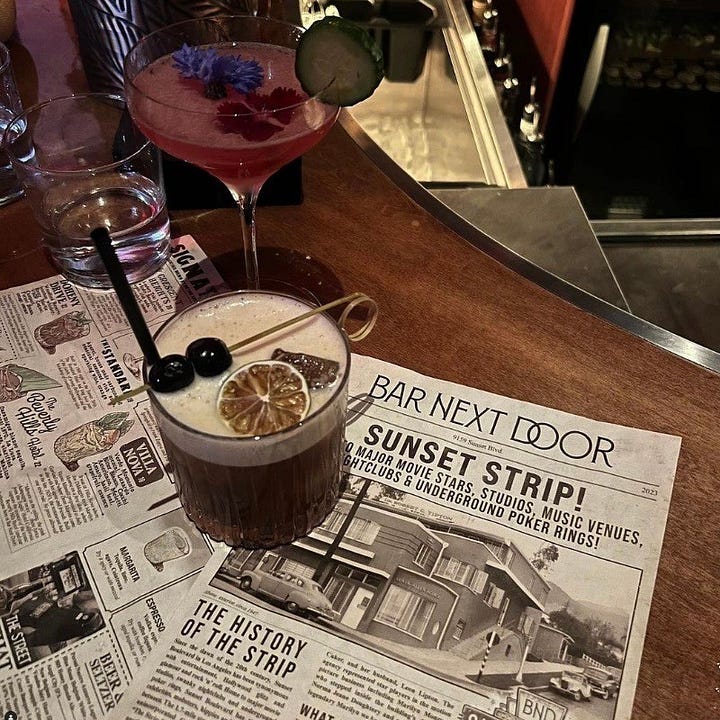 A new cocktail bar just opened in L.A. on the infamous Sunset Strip, and fellow RAIDer Damian Canta designed its retro newspaper-inspired menu! If you're in the area, go pick your poison at the Bar Next Door — it's open 4 pm-LATE daily! 🍸️⁠
DID YOU KNOW?
June 1st marks the 85th anniversary of the No. 1 introduction of Superman from Action Comics. This comic is widely considered to be both the beginning of the superhero genre and the edition as the most valuable comic book in the world!
A copy graded 9.0 by CGC book sold for over $3.2 million on eBay in 2014.
A handful of the RAID fam got the chance to watch an early screening of Spider-Man: Across the Spider-Verse last night… and we're not spoiling anything! But we think you should probably see it this weekend. 🕷️
If you've read this far, we have a little contest for you — name the Heroic tune we're riffing off of in the subtitle of this month's newsletter to win a signed copy of Danesh Mohiuddin's TIMELESS CHARACTERS poster! First post in the comments sections WINS!
---
THANKS FOR READING!
RAID TABLE TALK is brought to you by an amazing team effort from the RAID crew. We do our best to keep you informed on what all the awesome individuals at RAID are doing, and what we're doing as a whole.

Visit our RAID ONLINE SHOP to discover some of our great creators and books...