Discover more from IT'S A RAID WORLD
A place where we share shenanigans from RAID HQ, elevate our creators, and confabulate regarding our RAID Press initiatives.
Stillwater's They Certainly are Not 🌊
With TCAF (Toronto Comic Arts Festival) in our rearview mirror — it's time to go over some more RAID Studio Shenanigans
April showers bring May flowers - and it's blooming comics!
Last weekend saw us at TCAF (Toronto Comic Arts Festival) while fellow RAIDer Marcus To went rogue and represented at the Calgary Expo! It was wonderful to reconnect with friends, fans, and colleagues in the comic community. To boot — we picked up some wonderful books that we can't wait to dive into!
April was also the ultimate balance of rest and relaxation as we went on our annual cottage retreat. 🛶
We were blessed with unseasonably warm weather, which allowed us to partake in some great outdoor fun — some of the braver souls even dove into the crisp waters; which are normally frozen solid this time of year — so, YAH, a welcome change!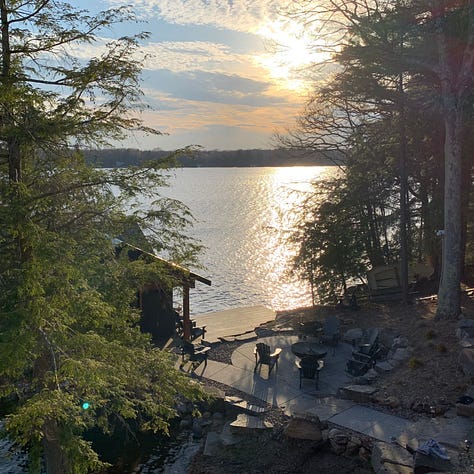 The RAID retreat allows members to get a little break from the city chaos, and recharge their creative batteries. However, it's also a place for individuals to work on personal projects, whether it's writing the next great script, laying out a comic, or painting some beautiful panels!
If you're interested, as a local creator, in joining our studio — we're always looking to grow the family! Find more info here: RAID Studio Solutions!
Subscribe for free to receive new posts and support our creator network.
Last month we closed our Forest Folk: Quips & Quandaries Kickstarter campaign — the third book in Dax Gordine's Forest Folk series. We had our highest return amount of backers for any campaign we've run this far - so a giant THANK YOU to you!
Not only that, the book has ALREADY arrived from the printer, and it looks gorgeous on its own and alongside the previous editions. We'll embark on campaign fulfillment shortly as we await the spiffy extras of enamel pins and clubhouse patches to arrive from their respective production facilities. Since we had 'em on hand — we snuck a small amount of volume 3 over to TCAF — and this boy's reaction to Quips & Quandaries confirms we made the right choice!
As we take a breather from our campaigns, we wanted to highlight some other campaigns that are currently live, or about to launch, from our industry pals…
DWELLINGS #5 by Jay Stephens and Black Eye Books. David Lynch meets Little Dot in this disarming and disturbing journey — drawn in a familiar, retro, mid-century Harvey Comics vibe! Dwellings is not for the squeamish.
MOTHER TRUCKER #3 THE HEAT by Andy Belanger and Lethal Comics. Launching May 9, 2023, at 10 am! Physical backers who jump on the pre-launch page will also get a CENTERFOLD poster in their reward package!
COLORPEDIA Volume 3 from Renderwave. RAID studio member and publisher, Oldrich Stibor, launches this third volume of the popular digital painting art/textbook on May 9, 2023! Physical backers who jump on the pre-launch page get an additional free slipcase cover.
And don't forget to sign up for our upcoming CAULDRON: FORBIDDEN APPETITES, a tome collecting the best of the bi-annual CAULDRON horror magazine!
A KICKSTARTER IDEA…
We're always interested in hearing from you about how we run our Kickstarters. We're always trying to make them more affordable, accessible, and overall better. One concept we've been deliberating with is rather than running multiple campaigns during a season - we would run just one featuring several books from multiple creators where a backer could choose one or all books available in the campaign and enjoy consolidated shipping.
Let us know what you think in the comments below!
We've got a few events lined up in the months to come — and we're always adding new things - so stay tuned to OUR SOCIALS for up-to-date details!
It's FREE COMIC BOOK DAY this Saturday, May 6th, so…
If you're in the area of Calgary, Alberta visit Marcus To who will be signing from 12pm to 2pm at the Comic Kazi comic shop located at 6105 Centre Street South.

If you're in the Toronto, Ontario area swing by our very own RAID HQ located at 1720 Queen Street West and grab a FREE COMIC with the purchase of any coffee at El Almacen, our in-house coffee shop.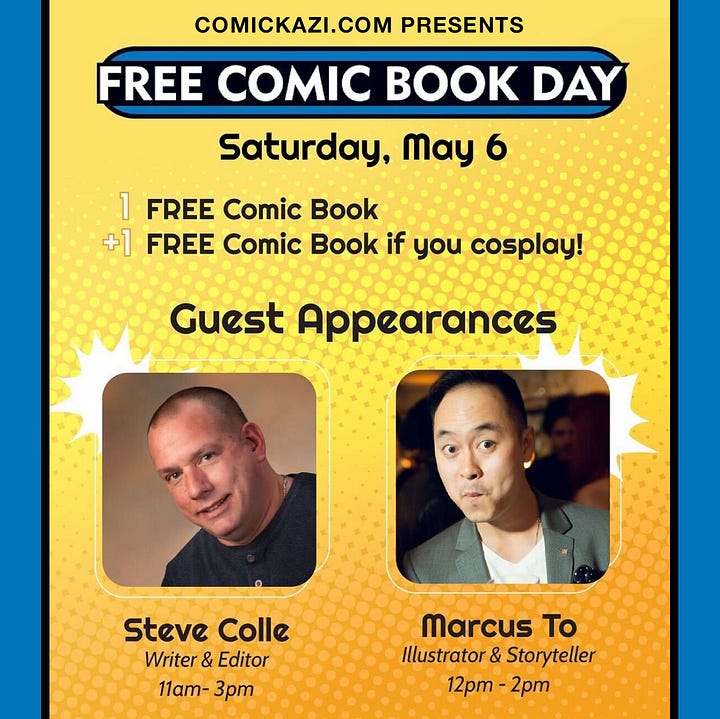 …and on the horizon we've got… 👇
WORD ON THE STREET / May 27 - 28 • Toronto, ON.
This will be our first time ever showing at Toronto's outdoor book fair. We're thrilled to be part of this wonderful outdoor event.
PLUS…
HEROES CON / Jun 16 - 18 • Charlotte, NC.
This will be our FIRST show in the USA setting up officially as RAID - and we've got a solid crew of creators joining us in North Caroline; Ramón K Pérez, Marcus To, Eric Vedder, S.M. Carter, and Dax Gordine! We don't have our table numbers yet, but we'll be in or astride INDIE ISLAND!
WOW-WOW-WOW — that's a lot! But wait, there's more…
Our creators are always busy here at RAID, and let's share a little bit of what they have going on…
X-23 DEADLY REGENESIS CONTINUES!
Kalman Andrasofszky is the cover artist for the Marvel comic series, X-23 Deadly Regenesis, AND issue 3 drops on Wednesday, May 31, 2023 — so make sure to add it to your pull list! You can also witness the creation process here.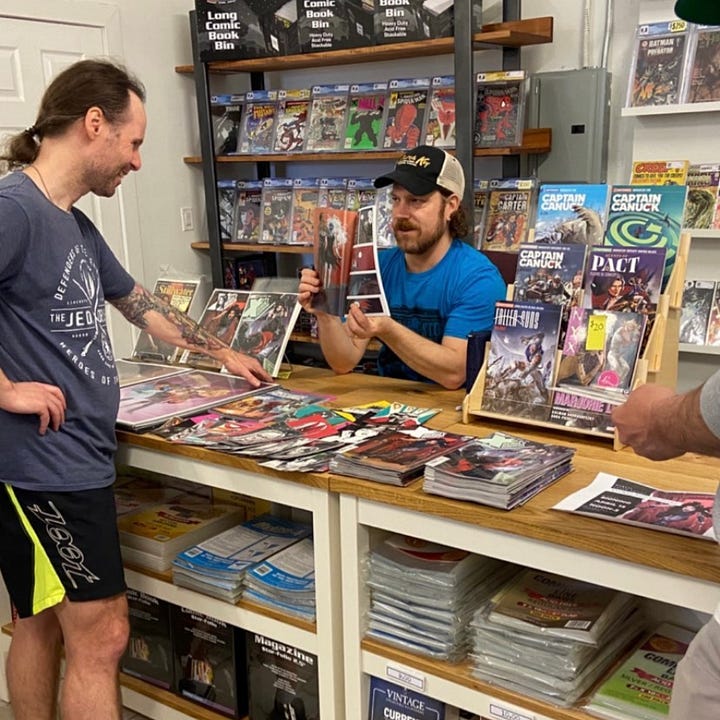 MARVEL VOICES & CARNAGE REIGNS ALPHA 1
Paris Alleyne has contributed to two different comics released this week;
Marvel Voices available on Free Comic Book Day (May 6) — the book includes a range of stories from previous Marvel's Voices issues, as well as a brand-new one!

Carnage Reigns Alpha 1 available Wednesday, May 3 — With Carnage's soul trapped within the Extrembiote Armor created by Tony Stark during KING IN BLACK, Cletus has the means to level an untold amount of chaos and, well, carnage on New York City and the entire Marvel Universe. (WOW — that was a creative mouthful!)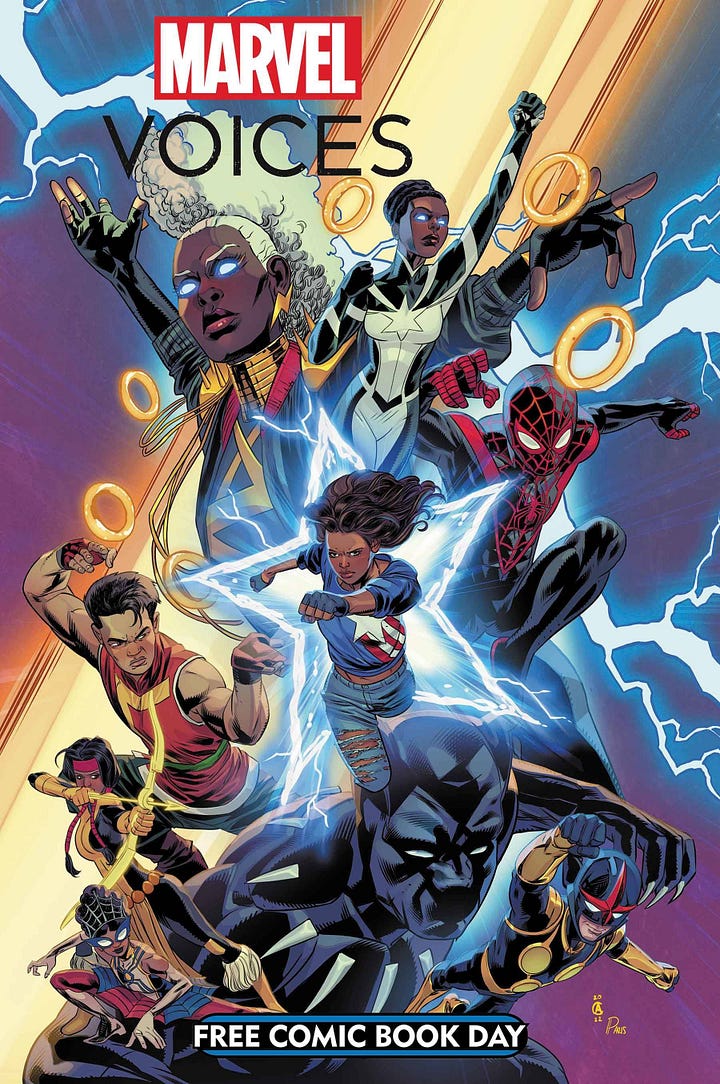 STILLWATER COMES TO A CLOSE!
The final volume of Chip Zdarsky & Ramón K Pérez' series (#18) came out on April 5, 2023, the collected final book, Border Crossing, releases this week on Wednesday, May 3. Snag this final volume - or all three books and experience the horrors of life-everlasting in this tantalizing small town tale.
20 YEARS OF BUTTERNUTSQUASH!
We don't mean the soup made from the fabulous and versatile, gourd - but rather the online comic series by Ramón K Pérez & Rob Coughler which launched on April 16th, 2003! The comic was an absurdist biography of its creators, Ramón & Rob, along with their friend Vince and his loveable Pitbull Cola, as they embarked on their 30-something lives.
We asked Ramón… "what is Butternutsquash?"
"It was a little comic that was supposed to go into NOW magazine at one point, kind of like a Sunday funnies comic insert. I was contacted to do some content and I came up with the idea with a buddy of mine kind of encapsulating our lives in Toronto as two people from the suburbs moving to the big city and the comedy that ensued. It ran for five or six years.

It got some accolades and some good fan following, and that helped connect me with the Toronto comic community." — Ramón K Pérez
While the comic isn't currently available anywhere online to read — due to recent malware activity on the site — the comic has remained up for people to enjoy since its final update in 2011. But, with it celebrating 20 years of laughter, that doesn't mean it will stick that way for long — we got some ideas 😉.
In the meantime — follow the BNS ARMY Instagram for future updates — and please enjoy some classic calamity of high-fives in this snippet of the "HIGH FIVE HELMET" saga…
---
THANKS FOR READING!
RAID TABLE TALK is brought to you by an amazing team effort from the RAID crew. We do our best to keep you informed on what all the amazing individuals at RAID are doing, but also what we're doing as a whole.

Visit our RAID ONLINE SHOP to discover some of our great creators and books...